so, uh, what does it say about my sanity that I think it would be a TERRIBLY AMUSING idea to have a
Merlin
'vid to Pat Benatar's "Heartbreaker"? (honestly, I think it's just the opportunity to time the phrase "invincible winner" to shots of Arthur in sparkly armor or, possibly, ironically falling over.)
maybe I'm insane. STILL, I THINK IT WOULD BE FUN OKAY.
also, slightly as a transitional segue pathetic confession or something, I have gotten completely sucked up in medieval recipes and might actually wrangle one for an active demo some time this month. THANKS

dsudis
. >:[ (♥)
anyway, the heralded recipe dump: cupcakes, nuts, and fruit dip. haha, nuts.
margarita cupcakes with peppered orange water mascarpone frosting
this little baby is inspired by a drink I had at a friend's bar where she rimmed the margarita glass with salt
and
fresh-ground pepper (mostly pink and green peppercorns, with a little bit of black for heat). it was pretty amazing. also it's inspired by the fact that when I went to grab the triple sec I discovered that my younger brother had finished it off in a fit of douchery, but hey! I have orange blossom water from my trip to the Persian grocery for
rosewater and hibiscus flowers
. so why not let that shine instead?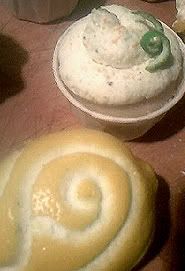 ( more pictures and the recipes under the cut )
now I need to exercise for a half an hour, shower, dry my hair,
straighten
my hair, and then go to bed. I work a 12-hour day (one shift at each job) tomorrow. WHAT FUN!